Welcome to ICOAI 2020
Full Virtul Conference
(

CFP Flyer)
The COVID-19 pandemic has imposed unprecedented changes in our personal and professional lives. Governments around the world are still issuing restrictions on travel, gatherings, and meetings in an effort to limit and slow the spread of the virus. The health and safety of our participants is our first priority. Following the advice and guidelines from healthcare officials and local authorities, ICOAI 2020 will be held virtually during October 14-16, 2020.

We are fully aware that our face-to-face meeting is and will remain the ideal format to share knowledge and research however, in light of the pandemic, we see the online conference as the best alternative to keep the spirit of our global community alive.

Registration fees has been adjusted, and participants will benefit of registration fee reduction. More details, please refer to registration page. Accepted papers after registration and online presentation will still be published normally.

We will be updating you as we get closer to the conference and ensuring that you are briefed on the program and how it will work in the online environment to ensure you get the best experience.

We extend our heartfelt thanks and appreciation to all of our participants for your understanding and engagement. Although ICOAI 2020 cannot be held physically, the integrity and quality of the research and content will remain and now be experienced in the virtual environment. We look forward to meeting you at ICOAI 2020 Online!
Important Dates
Submission Deadline: September 10, 2020
Notification Deadline: September 25, 2020
Registration Deadline: October 5, 2020


Listener Registration
If you do not have paper submission, you are welcomed to register as the listener via Online Registration System to attend the conference.
The conference secretary at icoai@iacsit.net will contact you after receiving your registration.


Contact Us

Ms. Yolanda Dong

icoai@iacsit.net

+86-18080013977

09:30-12:00, 13:30-18:00, Monday to Friday (GMT+8 Time Zone)
Publication
Paper accepted by ICOAI 2020 will be published in one of the following Journals after review process. Welcome you to submit the paper by Online Submission System.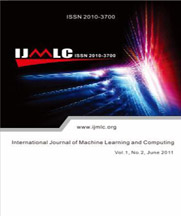 International Journal of Machine Learning and Computing
(IJMLC, ISSN: 2010-3700)
Abstracting/Indexing: Inspec (IET), Google Scholar, Crossref, ProQuest, Electronic Journals Library.


Paper Template


Amsterdam, The Netherlands
Latest News

September 26, 2020
Welcome Prof. Michail Salampasis and Dr. Dimitrios Tektonidis join in the technical committee.

August 11, 2020
To slightly give more room to our participant who might have been affected by the COVID-19 pandemic situation, the deadline for paper submission has been extended to September 10.
Technical Supporters