Welcome to ICOAI 2020
Amsterdam, The Netherlands | October 14-16, 2020
(

CFP Flyer)
2020 7th International Conference on Artificial Intelligence (ICOAI 2020) will be held in Amsterdam, The Netherlands during October 14-16, 2020.

Artificial Intelligence is driving a new revolution in domains ranging from manufacturing, automotive, healthcare, robotics, entertainment, and many others. New computing platforms are required to support the emerging AI algorithms and applications, from cloud servers to edge devices, from system level to circuit level.

ICOAI allows academia to meet industry from the international community to exchange experiences, demonstrate their studies and further advance AI technologies. You will also have a chance to discover the fascinating culture and architecture of Amsterdam, try out the local cuisine, and discover the city's hidden gems.

As one of workshops of ICCSIT, ICOAI has been successfully held in Barcelona (Spain), Paris (France), Florence (Italy), Limerick City (Ireland) and Amsterdam (Netherlands) over the past six years. We look forward to seeing many returning faces and welcoming new attendees at ICOAI 2020.

Important Update due to the COVID-19: Online Presentation

As your safety is our top priority and concern, the conference also has added online attendance / presentation for participants in case of you cannot attend the conference because of the COVID-19.

Participants will benefit of registration fee reduction after choosing online attendance / presentation. Accepted papers after registration will still be published normally.

We would like to thank for your support to the conference despite the current crisis situation. Please contact icoai@iacsit.net for more information about online presentation.
Important Dates
Submission Deadline: August 10, 2020
Notification Deadline: August 30, 2020
Registration Deadline: September 15, 2020


Listener Registration
If you do not have paper submission, you are welcomed to register as the listener via Online Registration System to attend the conference.
The conference secretary at icoai@iacsit.net will contact you after receiving your registration.


Contact Us

Ms. Yolanda Dong

icoai@iacsit.net

+86-18080013977

09:30-12:00, 13:30-18:00, Monday to Friday (GMT+8 Time Zone)
Publication
Paper accepted by ICOAI 2020 will be published in one of the following Journals after review process. Welcome you to submit the paper by Online Submission System.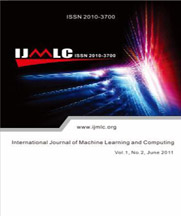 International Journal of Machine Learning and Computing
(IJMLC, ISSN: 2010-3700)
Abstracting/Indexing: Inspec (IET), Google Scholar, Crossref, ProQuest, Electronic Journals Library.


Paper Template


Amsterdam, The Netherlands
Latest News

July 2, 2020
Due to continued COVID-19 disruption, the Organizing Committee has decided to extend the submission deadline to August 10, 2020.

May 26, 2020
Per the requests from potential participants, the submission deadline extends to July 1, 2020.


Technical Supporters